It's finally time! We've got two awesome badges for you! Our presale is going on right now, just click here to order. If you'd like to know more about our badges this year, keep reading!
Presale Details
We're using this presale to gauge interest and to decide how many badges to take with us to Defcon. We decided not to do a kickstarter this year, so we're relying on you to get the word out and make sure everyone knows where to get awesome badges! Presales will end in 2 weeks on Memorial Day (May 27th) at midnight MDT. Presales will ship out approximately 2 weeks before Defcon. We also learned our lesson last year with pickups at Defcon. It's a huge hassle both for us and you, so this year we're only shipping presales. We're also only shipping to the USA (Sorry to all our international fans, it's just not worth the hassle and cost). We should be bringing a bunch with us, so watch our twitter account (@GoonBoxBadge) for sale locations during Defcon.
Bow Ties are Cool
We've upped our game this year with new designs and we even branched out to other fandoms! For those who think bow ties are cool, we've got just the thing…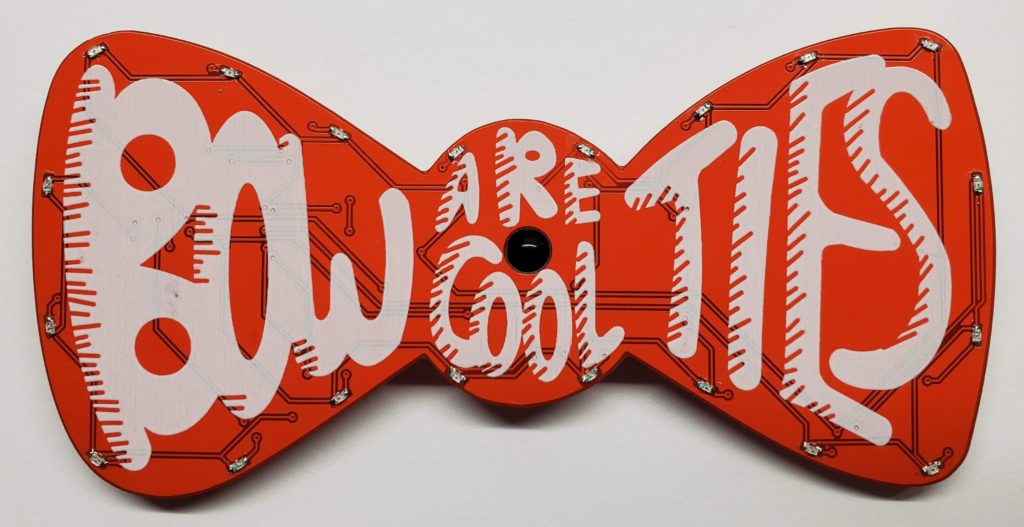 This bow tie badge has 20 red LEDs on it for lots of blinky, as well as an IR receiver to make it react to the screwdriver. It has 2 pins on the back for attaching to a shirt or lanyard.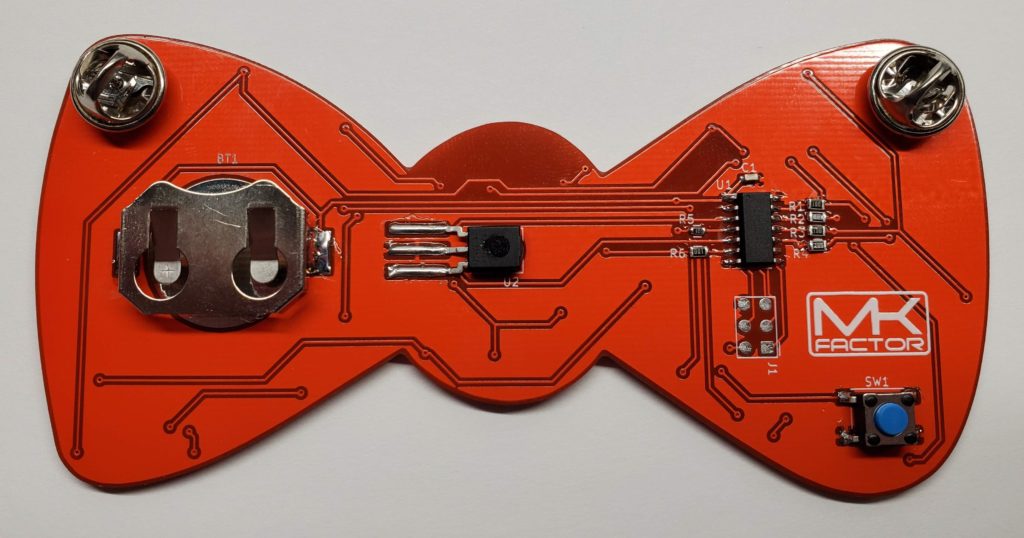 This year's screwdriver is inspired by the 11th Doctor's screwdriver and features a soft green color.

While it is a new design, it's functionally identical to last year's screwdriver. This means that if you have a screwdriver from last year, it'll work with the new bow tie!
Even though we added a lot of functionality with the bow tie this year, we've decided to keep with our original mission of making a $20 badge. The complete set with bow tie and screwdriver is only $20!
Branching Out – Beyond The Doctor
We decided to do something a little different this year, so we made a badge inspired by The Fifth Element.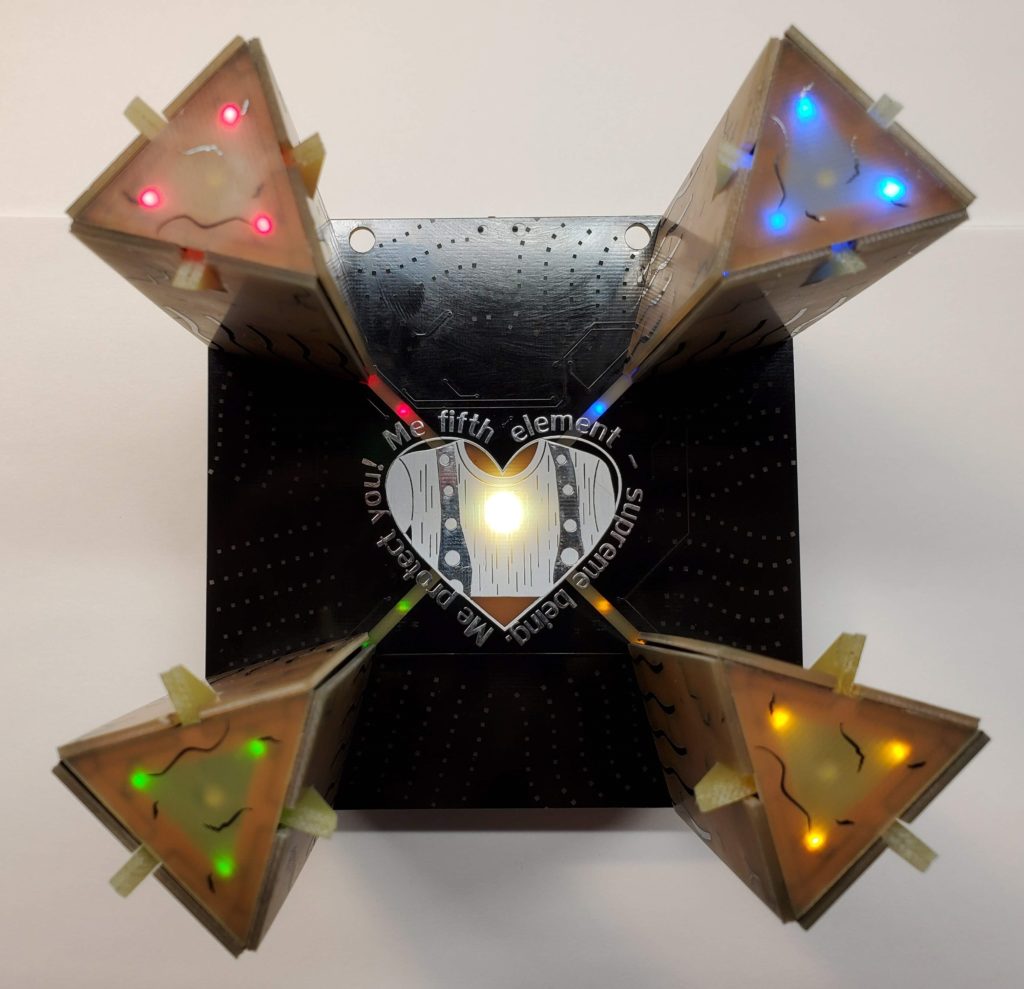 It's comprised of 4 Element Stones that are also SAOs, as well as a base badge to hold and power them.
The element stones feature LEDs in the top and the stones actually open when you place them on the base! There is a spring-loaded mechanism inside that makes the magic happen. Even better, this will still work if you put the stone on another badge that supports SAOs!
The center of the badge features a bright white LED that is activated when the stones are all placed in the correct locations.
This badge is available for $100, which includes all 4 element stones and the base with a cool lanyard.
Some of you may have noticed that the element stones in the pictures are all the same, except for LED color. This is just for prototyping, as it's much cheaper to get a few extras of one design rather than 4 separate designs. Rest assured, the final badge will have 4 different element stones 🙂
Kit Option
We're also doing something else new. We know a lot of people like building badges, so we're going to offer a kit option for this badge. This kit is not for the faint of heart, as there are a lot of pieces. Each element stone is composed of 11 circuit boards plus other parts that must be soldered together. It's a lot of work, but it offers a significant savings on the badge. Fully assembled badge sets are $100 while the kit is $60. Now, we know what you're thinking, "that's a lot of money." It is, but the fact is that this badge takes a lot of time to put together. Here's a picture of the parts that go into each element stone, and this is partially assembled. There's also 3 LEDs, 3 resistors, and the SAO connector.
We're not trying to dissuade anyone from the kit option, just trying to give an accurate picture of what it takes to put these together. The kit does include a fully assembled base for the element stones.
Local Pickup
If you're local to the Salt Lake City, UT area and want to save a few bucks on shipping, we'll be having a meetup at 801 labs a couple weeks before Defcon. This free pickup option will only show up during checkout for Utah addresses.
Thanks for checking out our badges. If you're interested in buying one, click here to go to our presale. It's going on now through Memorial Day!